Oct 31, 2013
See on Scoop.it – Content Curation World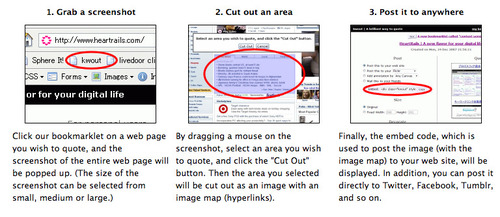 A brilliant way to quote
Robin Good's insight:
Kwout is a web app that allows you to grab any portion of any web page, including text and images and to easily post it on your site, blog or on your preferred social media channel.
To use Kwout you install a Firefox add-on or the Chrome extension and whenever you see content you want to "quote" you click the Kwout button and then you select the part of the page you want to quote with your mouse.
At this point you can select whether to share, tweet or embed your selected quote whereever you like. A unique feature makes it possible for all of the links contained in the part of the page you grabbed to remain fully active and clickable.
P.S.: This is not a new tool and it has not been updated since 2011 but it is still working fine.
Free to use.
Try it out now: http://kwout.com/
Firefox add-on: http://kwout.com/help/addon
Chrome extension: http://kwout.com/help/extension
See on kwout.com
Founder and CEO of Internet Billboards. A futurist and serial entrepreneur, as well as a professional fitness trainer, martial artist, and business strategist. Helped to develop inbound advertising. An avid content curator who enjoys finding those digital gems out there in cyberspace and sharing them with others.
Latest posts by Tom George (see all)
0