Oct 25, 2013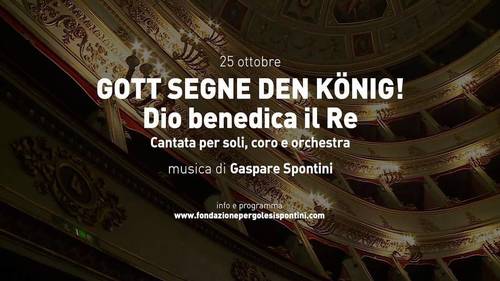 "Lo scettro e la bacchetta" "The scepter and baton" will be the leitmotiv of the Pergolesi Spontini Festival 2013, the thirteenth edition of the international exhibition dedicated to the enhancement of the musical production of the two great Le Marche composers. The theme of the festival, which will take place from October 5 to November 3, will therefore be the relationship between music and political power, in a transversal and multidisciplinary approach between music, art and film, starting from the celebration of imperial grandeur in the days when Gaspare Spontini was Generalmusikdirektor of the King of Prussia, Frederick William III and arrives to offer a tribute to Wagner and Verdi, for the bicentennial of their birth, highlighting similarities, suggestions and conflicts.
See on www.youtube.com
Related articles
Tags: Frederick William III of Prussia, Gaspare Spontini, Marche, Music director, Prussia, Richard Wagner, Verdi, Wagner
I am what I do: Curation, Social Media Marketing, Triathlon, Travelling, Real Estate.
I am passionate about Le Marche Region in Italy, follow me to discover it.
Latest posts by Mariano Pallottini (see all)
0