Oct 25, 2013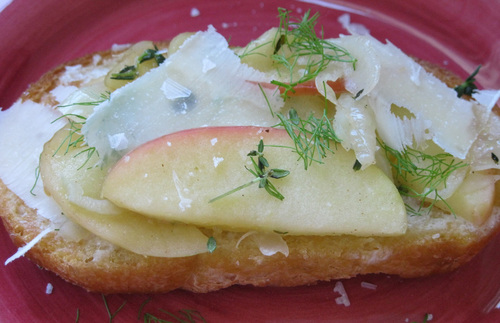 This recipe was inspired by a recent trip to Italy. Eddie and I were in this tiny town in the hills of Le Marche, called Apechio. They just so happened to be having their annual Truffle Festival (amazing!). On a rainy Sunday we were wondering around the town center, through an old castle made of stone. We climbed up the uneven steps to the top where a beautiful long wood table was set for lunch.
After brief inquiry, we decided to join the group of twenty Italians for a once in a lifetime meal: the world pizza champion was preparing original pies, paired with local beers. Sold.
As he cooked, he discussed the process, from the oven (electric) to the pancetta (local). It was like nothing I'd ever tasted before because the flavors were so rich and unique to the region. This was a locavores delight! One of my favorite pizzas was a fresh tomato, pancetta bianca pizza topped with fresh fennel sprigs. I would have never thought to use fresh fennel fronds to finish a dish, but I loved it!
Now I'm back in Seattle, the weather is cool and darkness is beginning to shorten the daylight. I wanted to create an interesting bruschetta that eased into Fall, just as we had. I couldn't decide whether to pair the apple fennel mixture with salty, aged pecorino or creamy gorgonzola dolce, so I just did both. After bringing this to two events now, I recommend indecision. Serve both.
Ingredients:
1 tablespoon olive oil + more for bread

1 crisp apple, such as Pink Lady or Fuji

1 small fennel bulb (about the size of an apple), reserving fennel fronds

1/4 teaspoon sea salt

3 tablespoon fresh thyme, chopped

1/4 cup dry white wine, such as Pinot Grigio

1/4 teaspoon white pepper

8 slices sourdough loaf, sliced in half width-wise

.20lb gorgonzola dolce

.20lb pecorino
Directions on foodiewithalife.com
Tags: Fennel, Italy, Marche, Olive oil, Pink Lady, Pinot gris, Pizza, Seattle
I am what I do: Curation, Social Media Marketing, Triathlon, Travelling, Real Estate.
I am passionate about Le Marche Region in Italy, follow me to discover it.
Latest posts by Mariano Pallottini (see all)
0