Oct 25, 2013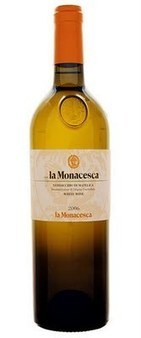 Name: La Monacesca Verdicchio di Matelica 2009
Grapes: At least 85% Verdicchio grape but this DOC allows Malvasia and Trebbiano in the blend. The last vintages I tasted of this wine were 100% Verdicchio although there is no mention of other grapes on the label… so we guess 100% Verdicchio.
Alcohol: 13.5%
Region: Matelica DOC
The smaller and less famous of the two Verdicchio DOC's (the other being Castelli di Jesi), Verdicchio di Matelica DOC covers an area of around 300 hectares just under 4kms from the Le Marche town of Macerata. The area produces dry whites (this one), passito wines and a spumante.This DOC, and this producer, also produce a popular and lauded riserva version which is highly celebrated and this year scooped the Gambero Rosso Tre Bicchieri award. These standard versions must contain at least 85% Verdicchio grapes and, as mentioned above, can include Malvasia and Trebbiano up to 15% in the blend.
La Monacesca Verdicchio di Matelica 2009 – BUY – £9
A golden yellow in the glass with distinctive green hues. On the nose this wine gives out a tremendous waft of aromatic beauty with citrus, anise, honeysuckle and green under-ripe walnuts. Striking acidity and a luscious mouth-feel gives this wine a rich, opulent tone with sour citrus notes continuing to the mid palate. The finish is generous but very bitter, so much so as to shock the unexpecting. The wine's fruity, almost blossom-like nose is so beautiful that the bitter finish creates an unpleasant ending for my palate but this is Verdicchio and you must decide for yourself. My score: 87 Points
See on wine90.com
Tags: Iesi, Macerata, Malvasia, Marche, Matelica, Trebbiano, Verdicchio, Wine
I am what I do: Curation, Social Media Marketing, Triathlon, Travelling, Real Estate.
I am passionate about Le Marche Region in Italy, follow me to discover it.
Latest posts by Mariano Pallottini (see all)
0