Oct 23, 2013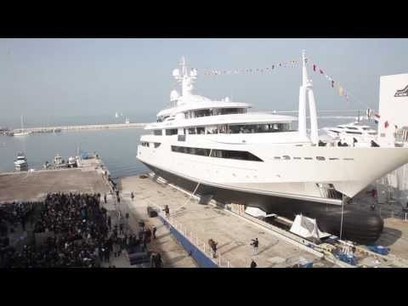 The M/Y Chopi Chopi is a megayacht, entirely built at the Ancona Shipyard, whose value exceeds 80 million Euros. It is the 129th pleasure vessel built by CRN, which in 2013 will celebrate its fiftieth anniversary and is thus celebrating a really historic moment: this yacht has indeed broken the previous record of 72 metres set by the "Azteca", which was launched in 2009. 
The building of Chopi Chopi required approximately 660 thousand working hours. A large number of local suppliers was resorted to for its construction. Both the architectural firm in charge of the yacht's exterior lines and interior layout – Studio Zuccon International Project – and the one that took care of interior design and furnishings – Studio Laura Sessa – are Italian, confirming the value of this megayacht and its being a world-class, entirely made-in-Italy product, bound to represent Italy's outstanding shipbuilding industry all over the world.
See on www.youtube.com
Tags: Chopi Chopi, CRN, Design, Interior design, Italy, Luxury yacht, Shipbuilding, Yacht
I am what I do: Curation, Social Media Marketing, Triathlon, Travelling, Real Estate.
I am passionate about Le Marche Region in Italy, follow me to discover it.
Latest posts by Mariano Pallottini (see all)
0