Oct 22, 2013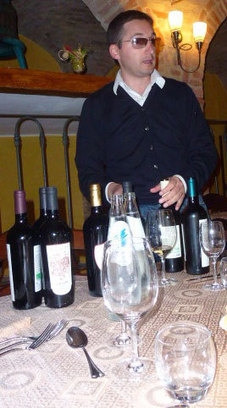 Just outside of the picturesque medieval town of Offida located in the southeastern part of the region of Le Marche lies Società Agricola Ciù Ciù (http://www.ciuciuvini.it). The winery, begun in 1970 by Natalino Bartolomei and his wife Anna, and continued today by sons Massimiliano and Walter, occupies 150 hectares of vineyards on which are grown a variety of organic grapes that all reflect the traditions and land of Le Marche. From these grapes the Bartolomei family produces a variety of white and red wines that, based at least on our tasting, embody the finest characteristics of southern Le Marche wines. […] After a tour of the spotless winery, we were treated to what I believe is the optimum way in which taste wines, a meal.
Driving the short distance to the town of Offida, we went to Cantina del Picchio, a combination Ristorante / Enoteca now owned by the Bartolomei family. There we feasted on the offerings of Chef Emilio Pasqualini while sampling the Ciù Ciù wines.
We began the white wines with a 2011 Altamarea Vini Spumante Brut 100% Passerina which was made from hand selected grapes cryomacerated and then must fermented with selected yeasts at controlled temperatures. The wine was aged using the Charmat Martinotti method followed with three months aging in the bottle. Pale yellow in color, this 12% alcohol wine had a light flower nose and a fresh finish. If you like spumante wines, this was a nice example. […]
See on www.wineloverspage.com
Related articles
Tags: Drink, food, Grape, Marche, Offida, Recreation, Wine, Winery
I am what I do: Curation, Social Media Marketing, Triathlon, Travelling, Real Estate.
I am passionate about Le Marche Region in Italy, follow me to discover it.
Latest posts by Mariano Pallottini (see all)
0