Oct 21, 2013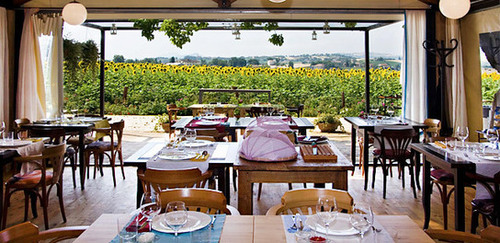 Casa Azzurra is a Loro Piceno boutique hotel with yoga, spa and views of the Sibilline mountains and Monte Conero.
Along with Italy's widely noted return to traditional agriculture there's been a corresponding return to the farm in Italian hospitality, and looking at small rural hotels like Casa Azzurra, in the east-central Marche province, it's not very hard to see the appeal. This nine-room gem sits in the Loro Piceno hills, twenty minutes inland from the Adriatic, surrounded by acre after acre of active farmland, backed by a vista of the Sibilline mountains — as picture-perfect a setting as a farmhouse hotel could ask for, but with a fraction of the tourist traffic (and development) of its neighbors in Tuscany.
The nine rooms retain a fair bit of the old farmhouse's rustic character, but their décor makes heavy use of a globetrotting collection of furniture in styles that span the East, from India to Bali to China and Japan. In terms of comfort they're not on a luxury-hotel level, but they're certainly more than adequate — here the atmosphere counts for a lot more than the thread count.
Or maybe "atmosphere" isn't quite the right word. Casa Azzurra, it turns out, follows the principles of "bio-architecture," which means not only that it's green as can be, with solar power and geothermal heating, but it's Feng-Shui'd to the gills, its meridians are in perfect alignment, and its magnetic fields, after dark, are apparently a non-factor. Say what you will, there's no such thing as a hotel that worries too much about the quality of its guests' sleep. […]
See on www.tablethotels.com
Tags: Bali, China, Feng-Shui, Italy, Loro Piceno, Marche, Monte Conero, Tuscany
I am what I do: Curation, Social Media Marketing, Triathlon, Travelling, Real Estate.
I am passionate about Le Marche Region in Italy, follow me to discover it.
Latest posts by Mariano Pallottini (see all)
0