Oct 19, 2013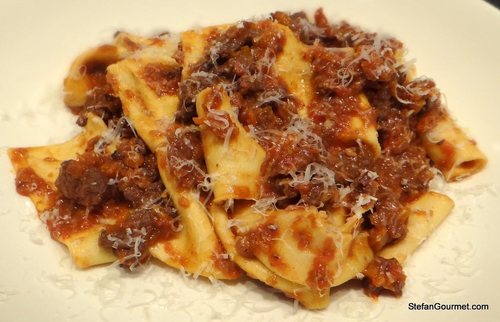 It is hunting season, which means that game like wild boar and venison are on the menu. A classic recipe from Tuscany is pappardelle al ragù di cinghiale, fresh wide ribbon pasta with a sauce of wild boar stewed in tomatoes. The sturdy pasta and the sturdy ragù go very well together and perfect for this time of year.
If you cannot find wild boar meat, you could also prepare this with pork shoulder but that will result in a milder taste. In classic recipes the boar meat is marinated in the red wine overnight, but that is not really necessary as long as you simmer the sauce for at least 2 hours over low heat. A bouquet of bay leaves, rosemary, sage, and dried chile pepper is used to give the sauce a nice spiciness.
Ingredients – For 4-6 servings
500 grams (1.1 lbs) wild boar stewing meat

2 cans (400 grams/14 oz) peeled tomatoes

125 ml (1/2 cup) full-bodied red wine, preferably Italian sangiovese (Chianti or Rosso di Montalcino)

125 ml (1/2 cup) milk

100 grams (1/2 cup) chopped carrot

100 grams (1/2 cup) chopped onions

100 grams (1/2 cup) chopped elery

1 clove garlic

2 bay leaves

1 sprig rosemary

1 sprig sage

1 dried chile pepper (peperoncino)

4 Tbsp olive oil

salt and freshly ground black pepper

For the pappardelle

4 eggs

400 grams (2 1/2 cups) semolina flour (semola di grano duro rimacinato)

To serve

freshly grated parmigiano reggiano
See on stefangourmet.com
Related articles
Tags: Bay leaf, Cooking, Home, hunting, Ragù, Recreation, Tuscany, Wild boar
I am what I do: Curation, Social Media Marketing, Triathlon, Travelling, Real Estate.
I am passionate about Le Marche Region in Italy, follow me to discover it.
Latest posts by Mariano Pallottini (see all)
0