Oct 18, 2013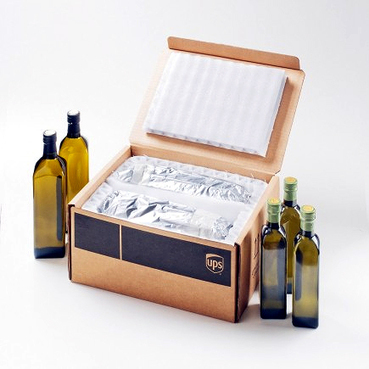 Extra virgin olive oil is a delicate product. It needs to be preserved from light, oxygen, extreme cold and heat. Glass is its best shield, but it needs to be protected in turn.
One of the main features of the new package developed by Grifal® exclusively for UPS is Mondaplen®, an innovative material with exceptional protective and insulating properties. The packaging — which measures 400 by 300 by 200 mm, and can contain up to two, one-liter (or three, half-liter) bottles — has an outer shell made of double corrugated cardboard while its walls are covered with Mondaplen®. Inside the package are two more Mondaplen® insulating bags covered with perimeter panels laminated with aluminium, which can be sealed with the adhesive tape provided for further protection of the bottles.
The packaging, which UPS dedicated to small and medium-sized Italian companies producing quality oil exporting abroad, is designed to defend the product from temperature changes during international transit.
The box is made with 50 percent recycled material, is itself totally recyclable, and could pass all ISTA (International Safe Transit Association) tests, as well as climate tests to verify that it can withstand low and high temperatures.
The cost of the package is €7.50.
Mariano Pallottini's insight:
See on www.oliveoiltimes.com
Tags: Business, Condiments, food, Food and Related Products, Oil and Vinegar, Olive, Olive oil, shopping
I am what I do: Curation, Social Media Marketing, Triathlon, Travelling, Real Estate.
I am passionate about Le Marche Region in Italy, follow me to discover it.
Latest posts by Mariano Pallottini (see all)
0