Oct 17, 2013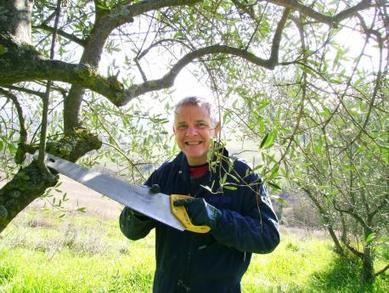 A MAN who swapped Malvern water for Mediterranean olive oil has spoken of his mission to create the golden liquid.
Robert Powell was the chief engineer at the Malvern Water bottling plant at Colwall but now has successfully produced another product.
He moved to the Le Marche region of Italy three years ago, buying a farmhouse and olive grove called Casale Delle Rondini.
After learning the art of making olive oil, he is now selling his product commercially and is offering foodies the chance to adopt an olive tree.
Before working at Malvern Water, Mr Powell was at Metal Box in Worcester for 23 years, starting as an apprentice and rising up the ranks to become a shift manager, then later moving to the Colwall job.
He said: "My partner, Francesco Russo, is Italian and we had visited Italy lots of times so always wanted to live here.
"But because I wouldn't leave my father who was in his 90s, we had to wait till he passed away.
"We decided the main olivegrowing region in Puglia was too hot in the summer, so picked Le Marche, which is in central Italy and also a very good olivegrowing area plus beautiful countryside halfway between the mountains and the coast."
They bought an olive grove, but it had been neglected for decades and lots of work was necessary to bring it back into a state where it was productive. It took many weeks of hard work to bring the grove, which was overgrown with brambles and weeds, back into a usable state. […]
Mariano Pallottini's insight:
Here the best Highlight:
"Mr Powell said the first harvest two years ago in the middle of November was a memorable experience, with friends and relatives all helping, sharing picnics and wine as they worked.
And the pressing of that first crop was even more memorable.
He said: "We waited at the end of the line, fresh crusty bread all ready to catch those first drops of amazing greeny golden liquid that now flowed into the containers that we had brought."
See on www.malverngazette.co.uk
Tags: Central Italy, Colwall, Italy, Le Marche, Malvern Water, Marche, Olive oil, Robert Powell
I am what I do: Curation, Social Media Marketing, Triathlon, Travelling, Real Estate.
I am passionate about Le Marche Region in Italy, follow me to discover it.
Latest posts by Mariano Pallottini (see all)
0