Oct 15, 2013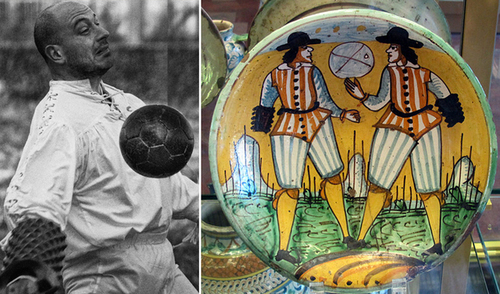 Football is the prominent sport in Italy, but it wasn't always so. There are many sports in Italy that are unique to the country and have their origins in its long and colourful history.
The Spanish have their bull fighters, the Japanese have the Sumo wrestlers, you don't hear about them much anymore but at one time the pallonista was a national hero in Italy and professional players commanded the highest salaries of any professional athletes in the world and enjoyed the passionate support of their countrymen. […]
Mariano Pallottini's insight:
In 1992, thanks to some fans and to the passion of the Municipalities of Mondolfo, Treia and Monte San Savino, has been created the National Committee of the Pallone col Bracciale, with the aim to promote the recovery of historical game through cultural exhibitions , conferences and publications and promote the competitive aspect by organizing demonstration games, tournaments and a national championship. The new championship, was repeated at a distance of about thirty years since the last edition of 1963, in 1992
See on www.swide.com
Related articles
Tags: Italy, Mario Balotelli, Monte San Savino, Sport in Italy, Sports, Tampa Florida, Treia, www.swide.com
I am what I do: Curation, Social Media Marketing, Triathlon, Travelling, Real Estate.
I am passionate about Le Marche Region in Italy, follow me to discover it.
Latest posts by Mariano Pallottini (see all)
0