Oct 15, 2013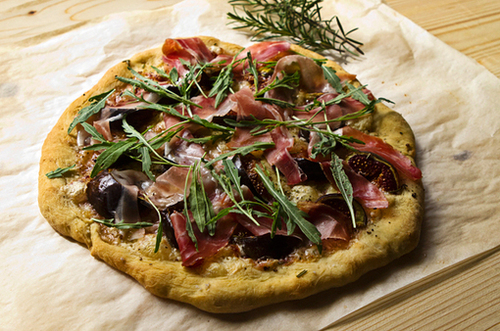 Figs and prosciutto are a perfect flavor combination as the sweetness of the figs is gently balanced by the salty prosciutto. I also like to use a combination of mozzarella and taleggio cheeses as, quite frankly, I love taleggio and find it's slightly musty flavor goes so well on this pizza. I prefer to use the arugula as more of a garnish which is added just before serving after the pizza has been baked, as I find if overused, the peppery flavor of this tasty green can overpower the subtle flavors of this dish.
Pizza Bianca With Fresh Figs, Prosciutto & Arugula
Yield: Serves 2 to 4Prep Time: 15 minsCook Time: 15 mins
Ingredients:
1 Pound Pizza Dough, Divided

4 Tablespoons Extra Virgin Olive Oil

2 Cups Cubed Mozzarella Cheese

1 Cup Diced Tallegio Cheese

8 Fresh, Medium Sized Figs, Quartered

8 Thin Slices Prosciutto

1 Cup Arugula, Washed & Dried

Cracked Black Pepper
See on www.italianfoodforever.com
Related articles
Tags: Black pepper, Eruca sativa, Figs, food, mozzarella, Olive oil, Pizza, Prosciutto
I am what I do: Curation, Social Media Marketing, Triathlon, Travelling, Real Estate.
I am passionate about Le Marche Region in Italy, follow me to discover it.
Latest posts by Mariano Pallottini (see all)
0