Oct 13, 2013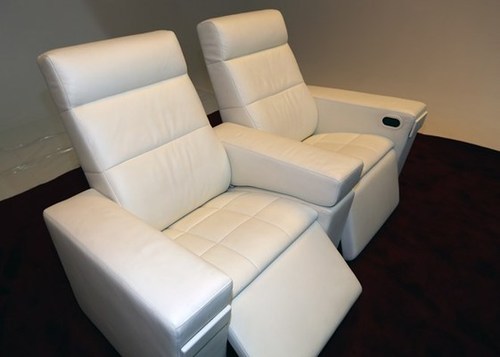 Premium Italian leather furniture brand Poltrona Frau has entered the home cinema seating market, partnering with Genesis Technologies to produce the Premiere !K and Premiere !Q armchairs. The high-end recliners are upholstered in Pelle Frau leather and are available in a variety of colours, finishes and stitching patterns. The Premiere !K is a motorised recliner "inspired by the First Class seats of premium airlines," with the Premiere !Q a non-reclining alternative. Both offer lumbar support, with the Premiere !K featuring a unique electrically adjustable back and leg support.
"Luxury home cinemas represent an extremely interesting niche market for Poltrona Frau Luxury Interiors division," says managing director Kurt Wallner. "It's driven by state-of-art quality and a high degree of personalisation, two characteristics that we are known for. There is a rising demand for luxury seating and statement designs in luxury home cinemas and with our expertise in this area, we are well-placed to offer discerning clients exactly what they need."
Genesis Technologies co-founder Wim GE De Vos, describes the company's partnership with Poltrona Frau as "a perfect fit," adding: "By combining technical brilliance and exquisite design, Genesis Technologies are able to offer unique and state-of-the-art private cinemas. We're both proud and excited to welcome Poltrona Frau Luxury Interiors as a partner for home cinema seating and interior design so we can offer the very best to discerning clients in search of excellence. […]
See on www.insideid.co.uk
Tags: Design, Fiat, Interior design, Leather, Maserati, Poltrona Frau, shopping, United States
I am what I do: Curation, Social Media Marketing, Triathlon, Travelling, Real Estate.
I am passionate about Le Marche Region in Italy, follow me to discover it.
Latest posts by Mariano Pallottini (see all)
0