Oct 12, 2013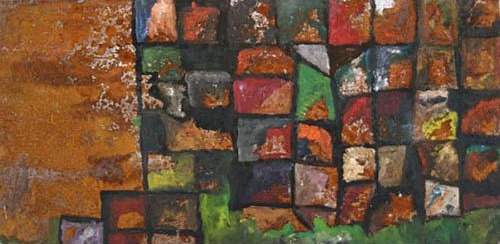 He has degrees from London, Oxford and Saskatchewan Universities and he recently graduated from the famous Chelsea and Wimbledon Art School. He had a successful International business and parallel political career and then, 10 years ago, he began painting. We are talking about Mike Freedman who lives between London, Tisbury (south west England) and Ascoli Piceno, in Italy, where he is organising his first Italian solo exhibition in the 14th Century Captain's Palace in the Piazza del Popolo from October 21nd to 31st, after expositions in London, Salisbury, Harrogate, Shaftsbury in UK and in New York City in the USA, at the prestigious Agora Gallery.
The exhibition, entitled Self – Destruct: Man's Devastation of his Environment, is about the global destruction and the planetary devastation: pollution, man – made climate change, resource exploitation and pesticide poisoning, observed during his travel to over 60 countries. 30 paintings where he uses the abstraction of landscapes as his vehicle deploying a variety of media and grounds (canvas, wood, steel and granite) to challenge his audiences to through the crisis with which we are all confronted. […]
8) Why did you choose Italy and why Ascoli Piceno?
Italy has an amazing culture, history, artistic heritage, food and wine, friendly people, language and diverse landscape ( we have been to Bolzano in the north, Sicily and Basilicata in the south, Rome, Naples, Genoa, Florence, Venice, and most places in between). These outweigh the bureaucracy and corruption for us.
Ascoli Piceno has a uniqueness and beauty that is found very rarely anywhere. We live in a 14th Century convent with a garden in the Historical Centre and with great neighbours and friends. To be 30 minutes from the sea and the mountains with a multitude of exquisite villages everywhere you turn is for us a paradise.
See on interactblogs.wordpress.com
Tags: art, Ascoli Piceno, Basilicata, Italy, London, mike freedman, New York City, paintings, Piazza del Popolo, Rome, United States
I am what I do: Curation, Social Media Marketing, Triathlon, Travelling, Real Estate.
I am passionate about Le Marche Region in Italy, follow me to discover it.
Latest posts by Mariano Pallottini (see all)
0