Oct 12, 2013
See on Scoop.it – Content Curation World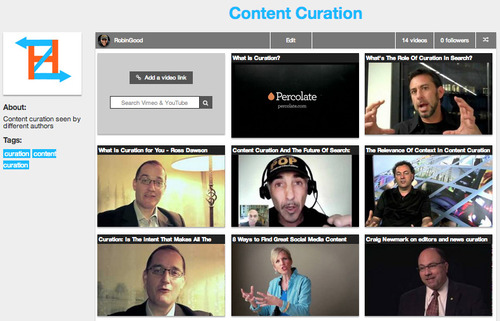 A new way to collect, organize, discover, and watch the best videos on the web.
Robin Good's insight:
Huzzaz is a new free video curation web service which allows you to search, find, collect and publish video clip collections on whataver topic or theme you may be interested in.
An internal search engine makes it easy to search for clips across YouTube and Vimeo, and to add them selectively to one of your collections. A bookmarklet is also available to clip videos that you find while surfing.
Video collections can be easily shared on social media or embedded easily on WordPress, Tumblr or on any other web site.
Free to use.
My comment: Promising alternative to the many options out there. Very easy to use both as a discovery tool as well as a video curation tool. Will need to see how it develops.
Get an invite here: http://huzzaz.com/beta
Review by SocialTimes: http://socialtimes.com/huzzaz-makes-it-easy-to-create-and-share-video-playlists_b136571
*Added to Video Curation Tools section of the Content Curation Tools Supermap
See on huzzaz.com
Related articles
Tags: Raskamboni movement, SocialTimes, Tumblr, Video clip, Vimeo, Web search engine, wordpress, Youtube
Founder and CEO of Internet Billboards. A futurist and serial entrepreneur, as well as a professional fitness trainer, martial artist, and business strategist. Helped to develop inbound advertising. An avid content curator who enjoys finding those digital gems out there in cyberspace and sharing them with others.
Latest posts by Tom George (see all)
0