Oct 12, 2013
See on Scoop.it – Latest Social Media News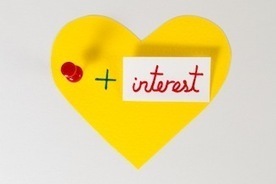 Excerpt from article on HubSpot:
"Pinterest users spend the most money of users on popular social networks — nearly double the amount of money spent from Facebook users and triple the amount from Twitter users. This means that there's lots of potential leads and customers just waiting to be engaged and converted who will probably spend a decent amount with you.
Pinterest is actually a fairly simple social media network as far as lead generation goes, because there's really only two ways to generate leads right now. So we'll walk you through both types of lead generation and how you can optimize pins to make the most of those lead generation opportunities.
On Pinterest, there are two types of leads you can generate: direct and indirect. It all boils down to where Pinterest is on the conversion path.
Here's the difference between the two:
– Direct Leads: Direct leads are generated through content on Pinterest that links directly back to a landing page on your website. On that landing page, visitors can share their personal information in exchange for an offer.
– Indirect Leads: Indirect leads are generated by using Pinterest on the path to conversion — but it's not the final destination before someone gets to a landing page.
Unlike other social media platforms, Pinterest really only has a one effective place where you can generate direct or indirect leads: through pins.
How to Optimize Your Pins for Lead Generation:
1) Create a board that your Pinterest audience can — and will want to — discover.
2) Create images that Pinterest users naturally notice.
3) Don't use UTM parameters or shortened links in your pin URL.
4) Use your description wisely.
5) Add a hashtag, if relevant.
6) Rinse, repeat.
7) Promote your pins elsewhere.
8) Keep track of your success with a few different tools…"
Each point is anlyzed with more information and external useful links.
Check out full interesting article:
http://blog.hubspot.com/how-to-generate-leads-with-pinterest-ht

See on blog.hubspot.com
Related articles
Tags: Facebook, HubSpot, landing page, Lead generation, Pinterest, Social Media, twitter, Uniform Resource Locator
Founder and CEO of Internet Billboards. A futurist and serial entrepreneur, as well as a professional fitness trainer, martial artist, and business strategist. Helped to develop inbound advertising. An avid content curator who enjoys finding those digital gems out there in cyberspace and sharing them with others.
Latest posts by Tom George (see all)
0