Oct 11, 2013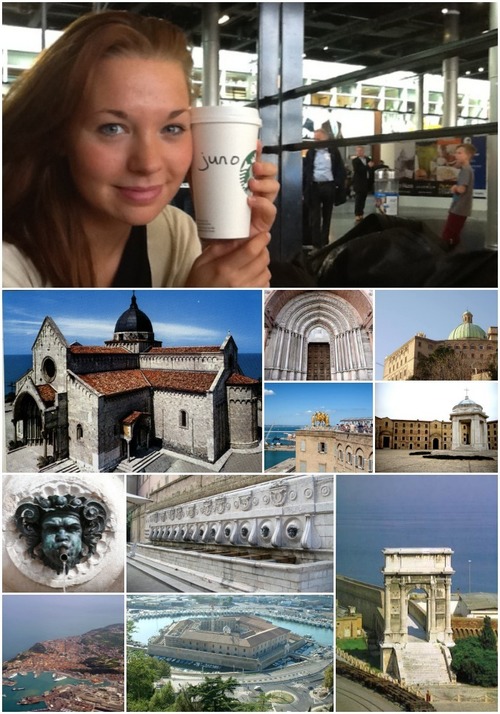 "I'm at Schiphol airport right now, and about to leave for Italy! I'm taking a few days off for a quick visit to Ancona."
Ancona is a city and seaport in the Marche region of Italy. Ancona was founded by Greek settlers from Syracuse about 387 BC. When it became a Roman colony is doubtful. It was occupied as a naval station in the Illyrian War of 178 BC. Julius Caesar took possession of it immediately after crossing the Rubicon. Its harbour was of considerable importance in imperial times.
1. Cattedrale di San Ciriaco
The dome is one of the most ancient in Italy.[…]
2. Arch of Trajan.
The Arch of Trajan is an ancient Roman triumphal arch. […]
3. Mole Vanvitelliana (Lazzaretto of Ancona)
The Lazzaretto of Ancona, also called the Mole Vanvitelliana, is an 18th-century building constructed on an artificial island for the purpose of serving as quarantine station and Leprosarium for the port town of Ancona, Italy. […]
4. Museo Archeologico Nazionale delle Marche
The archaeological finds collected in the museum are important as they attest the prehistory and the protohistory of our territory, from Paleolithic to the end of iron age.[…]
5. Fontana del Calamo
This is a 16th century fountain (1560) designed by architect Pellegrino Tibaldi. […]
It is said that if you make a wish and drink some water from each of the thirteen streams of this fountain it will come true.
I'm off to catch my flight!
See on historygalblog.wordpress.com
Tags: Ancona, Illyrian War, Italy, Julius Caesar, Lazzaretto of Ancona, Pellegrino Tibaldi, Roman, Trajan
I am what I do: Curation, Social Media Marketing, Triathlon, Travelling, Real Estate.
I am passionate about Le Marche Region in Italy, follow me to discover it.
Latest posts by Mariano Pallottini (see all)
0