Oct 10, 2013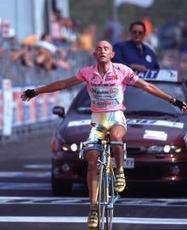 The route of the 2014 Giro d'Italia will pay tribute to Marco Pantani with three climbs in his honour, according to a report in Tuttosport on Tuesday. Ten years on from his tragic death, the Giro is set to visit Pantani's favourite training climb, Monte Carpegna, and will also feature summit finishes at the sites of two of his most memorable victories – Oropa and Montecampione. […] Stage 8 will see the Giro's first tribute to Marco Pantani, with his personal testing ground of Monte Carpegna featuring just before the finish at Montecopiolo.
Mariano Pallottini's insight:
Marco Pantani was fond of saying that to win the Giro and the Tour was enough to climb the ramps of the Mount Carpegna in Le Marche. Cippo of Carpegna was used by the "il Pirata" to train from his Cesenatico. This will be the first of three "Gran Premio della Montagna" marked by the top of the stage altimetry (1358 meters). The Giro 2014 will enter the territory of Pesaro at the 58th kilometer of the stage when from Valico della Scheggia will gain Ponte Riccioli and gradually will shift to Cantiano , Cagli , Acqualagna , Urbania , Lunano Frontino and then climb the Carpegna and the ascent of Cippo. From there the Giro will descend from Passo Cantoniera with the encroachment in Romagna with Pennabilli, Maciano, Soanne and Lago Andreuccio and then start the arrival of Villagrande and Montecopiolo.
See on www.cyclingnews.com
Tags: Acqualagna, Cantiano, Carpegna, Le Marche, Marche, Marco Pantani, Monte Carpegna, Montecopiolo, Pennabilli, Tuttosport
I am what I do: Curation, Social Media Marketing, Triathlon, Travelling, Real Estate.
I am passionate about Le Marche Region in Italy, follow me to discover it.
Latest posts by Mariano Pallottini (see all)
0