Oct 10, 2013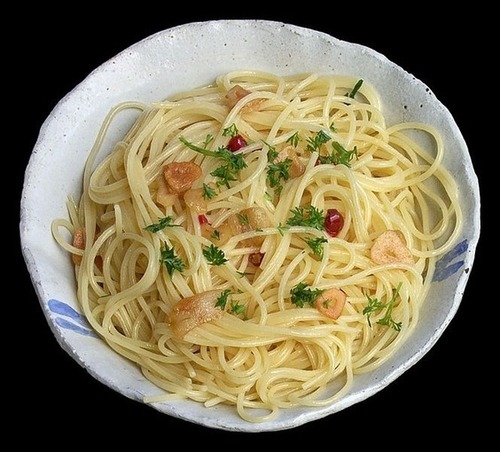 "Spaghetti with Garlic and Oil" is a traditional Italian pasta dish, said to have originated from the region of Abruzzo, although it is popular across the country. This is a classic Roman dish, one that most Italian men know how to make. It's also quite popular as a late night snack among friends, for example, after a night out at the theater.
Ingredients Serves 4-6
2 cloves of garlic, minced, or more to taste

1/2 of a dried chili pepper, crumbled,

1/3 cup extra virgin olive oil

1 pound spaghetti

Grated Parmigiano or Pecorino Romano (optional)

Parsley, chopped
Directions
Bring 6 quarts of lightly salted water to a boil and add the spaghetti.
Meanwhile, mince the garlic, crumble the red pepper and sauté them in the oil in a large skillet until the garlic begins to brown. Turn off the heat (the garlic will continue to brown; you don't want it to overbrown and become bitter).
When the spaghetti is cooked, drain and transfer it to the skillet. Mix well. Garnish with parsley.
Mariano Pallottini's insight:
Spaghetti with Garlic and Oil, from Abruzzo, clearly, passed to Le Marche through San Benedetto del Tronto where this dish was specially common in fisherman's families and has taken the local name: Spaghetti "Uie'Aié"
See on jovinacooksitalian.com
Tags: Abruzzo, Aglio e Olio, Garlic, Italian cuisine, Marche, Olive oil, Pecorino Romano, Spaghetti
I am what I do: Curation, Social Media Marketing, Triathlon, Travelling, Real Estate.
I am passionate about Le Marche Region in Italy, follow me to discover it.
Latest posts by Mariano Pallottini (see all)
0