Oct 8, 2013
See on Scoop.it – Content Curation World
I am curating fellow curator Robin Good here in this post. Robin is one of the world's foremost experts on curation.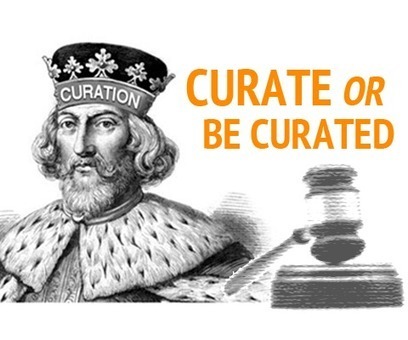 Robin Good's insight:
Steve Rosenbaum (the author of Curation Nation) strikes some pretty powerful chords that fully resonate with my vision and expectations about the future of content curation.
On the assumption that "The speed, scale, and number of distinct elements of produced content will double every 24 months." (call it Rosenbaum law) he rightly asserts that, as if there was already enough content, we are going to be literally inundated by tons of it soon.
In this light content curation is much more than what content marketing providers would have you think (save some time and get more interesting content out). Content curation is rather a socially critical activity that will make it possible for people to learn, find the information they need and indpendently evaluate what product to buy.
Steve Rosenbaum outlines five principles around which the economy of content curation will establish itself. They are:
The First Law: People don't want more content, they want less.
The Second Law: Curators come in three shapes…
The Third Law: Curation isn't a hobby, it's both a profession and a calling. Curators need to be paid…
The Fourth Law: Curation requires technology and tools to find, filter, and validate content…
The Fifth Law: Curation within narrow, focused, high-quality categories will emerge to compete with…
My comment: Steve Rosenbaum is right on track with this one and his five principles are 100% correct. If you are into content curation for the long ride, read them again.
Rightful. On track. 9/10
Full article: http://www.thevideoink.com/features/voices/the-coming-age-of-the-curation-economy-building-context-around-content/
See on www.thevideoink.com
Related articles
Tags: content management, content marketing, Curation Nation, Curator, Law, Rosenbaum, Site Management, Steve Rosenbaum
Founder and CEO of Internet Billboards. A futurist and serial entrepreneur, as well as a professional fitness trainer, martial artist, and business strategist. Helped to develop inbound advertising. An avid content curator who enjoys finding those digital gems out there in cyberspace and sharing them with others.
Latest posts by Tom George (see all)
0