Sep 24, 2013
See on Scoop.it – B2B Content Marketing Daily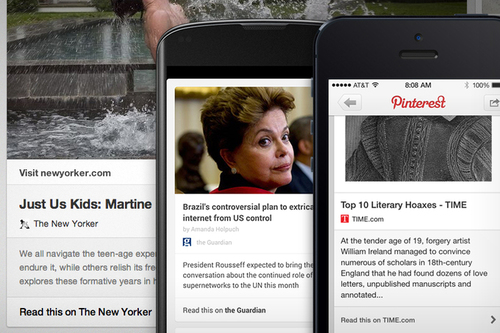 Pinterest announced today in a blog post that much like their recipes and products, now articles will include information specific to the article like title and author and more.
Mike Allton's insight:
Draw Attention to Articles on Pinterest
Pinterest has released "rich pin" capability for Articles, which means that articles pinned to Pinterest will include the story title, author, description and link. It's a fantastic update that can really help businesses and content marketers get a little more attention and interest for their blogs and stories.
But implementing the capability isn't as easy as Pinterest's announcement might make it sound. You have to have specific Meta Tags implemented, like og:type in order for Pinterest to recognize the content and details.
Check out the article below to find out more, including what tags need to be implemented and where to go to test your updated articles. Just like Twitter, once you have implemented the meta tags you'll need to have them validated in order for them to display correctly.
Are you excited for the new Pinterest cards?
See on www.thesocialmediahat.com
Related articles
Tags: content marketing, HTML, Markup Languages, Meta element, Metatag, Pin, Pinterest, twitter
Founder and CEO of Internet Billboards. A futurist and serial entrepreneur, as well as a professional fitness trainer, martial artist, and business strategist. Helped to develop inbound advertising. An avid content curator who enjoys finding those digital gems out there in cyberspace and sharing them with others.
Latest posts by Tom George (see all)
0