Jul 8, 2013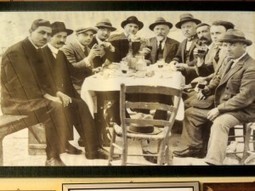 Pictures and memorabilia cover the walls of Rolando Ramoscelli's restaurant, but one black-and-white photo echoes his philosophy especially well. The portrait of 10 men seated around a table proclaims: family begins at the dinner table.
Da Rolando, located in San Costanzo, is a time capsule containing the rich tradition of art, culture, and especially food in Urbino and the surrounding Marche region. The restaurant features recipes handed down to Ramoscelli not only from his mother, but also from his grandmother and great-grandmother.
Ramoscelli opened Da Rolando in 1987 after attending culinary school for five years. He brings his own skills and personal signature to his dishes, creating unique yet comforting meals with traditional foods from the region. But his cooking experience really began at a much younger age, observing and accompanying his grandmother as she prepared meals.
Mariano Pallottini's insight:
Here a curious highlight: " Ramoscelli prepares his food the same way his grandmother and great-grandmother did several generations ago. His pasta is made fresh and by hand and all ingredients are local and in season. Every morning at 7:30, he calls down to his wife Palmina from the upstairs kitchen to decide on what ingredients are needed. "Pa," he calls as he collects a shopping list of foods. After a short consultation between the chefs, Ramoscelli is out the door for a food journey."
See on 2013.inurbino.net
Tags: Marche, Restaurant
I am what I do: Curation, Social Media Marketing, Triathlon, Travelling, Real Estate.
I am passionate about Le Marche Region in Italy, follow me to discover it.
Latest posts by Mariano Pallottini (see all)
0