Oct 14, 2012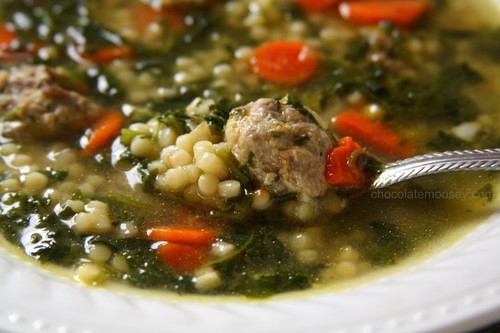 The term "wedding soup" is a mistranslation of the Italian language phrase "minestra maritata," which is a reference to the fact that green vegetables and meats go well together. The minestra maritata recipe is also prepared by the families of Lazio and Campania during the Christmas season (a tradition started from the Spanish domination of Italy to the present days). Some form of minestra maritata was long popular in Toledo, Spain, before pasta became an affordable commodity to most Spaniards. The modern wedding soup is quite a bit lighter than the old Spanish form, which contained more meats than just the meatballs of modern Italian-American versions.
Ingredients
Meatballs (can be done ahead of time*)
1/2 pound ground beef, thawed
1/4 cup onion, chopped
1 clove garlic, peeled and minced
2 Tbsp grated Parmesan cheese
1/2 tsp salt
1 Tbsp plain bread crumbs
1/2 tsp dried basil
3/4 tsp dried parsley
1 egg
Soup
1 Tbsp butter
1/2 cup onion, chopped (roughly 1 small)
1/2 cup carrot, peeled and sliced into coins (roughly 2 carrots)
2 cloves garlic, peeled and minced
6-8 cups chicken broth
Salt and pepper for seasoning
1/2 cup acini di pepi (can use orzo)
10 ounces frozen spinach, thawed
See on www.chocolatemoosey.com
I am what I do: Curation, Social Media Marketing, Triathlon, Travelling, Real Estate.
I am passionate about Le Marche Region in Italy, follow me to discover it.
Latest posts by Mariano Pallottini (see all)
0