Oct 7, 2012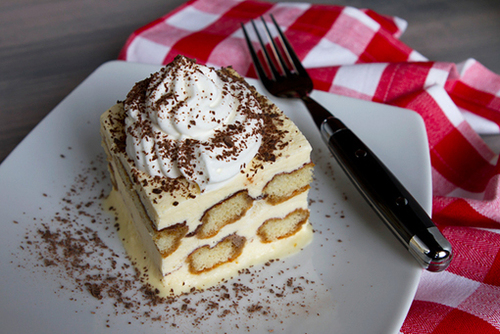 A semifreddo is semifrozen dessert, and can typically include ice-cream cakes, and semifrozen custards. When entertaining at home, a semifreddo is a fantastic dessert option because you can make it even a couple of days before, and then just slice, garnish, and serve when needed. This dessert is creamy smooth with the addition of mascarpone cheese and whipped cream, though the coffee dipped sponge cookies add some needed texture. Include the flavor combination of chocolate and coffee, and how could you possibly go wrong?
Tiramisu Semifreddo
Yield: Serves 8 – 10Prep Time: 20 mins
Ingredients:
250 gr. (1 Cup) Mascarpone Cheese At Room Temperature

1 Cup Whipping Cream

4 Eggs, Separated

1 1/2 Cup Espresso Coffee, Cooled

1/2 Cup Sugar

1/3-Cup Brandy, Marsala, or Rum

12 Savoiardi Cookies (Ladyfingers)

1/3 Cup Dark Chocolate Cocoa

1/2 Cup Dark Chocolate, Shaved, Divided
To Serve:
Sweetened Whipped Cream
See on www.italianfoodforever.com
I am what I do: Curation, Social Media Marketing, Triathlon, Travelling, Real Estate.
I am passionate about Le Marche Region in Italy, follow me to discover it.
Latest posts by Mariano Pallottini (see all)
0