Oct 2, 2012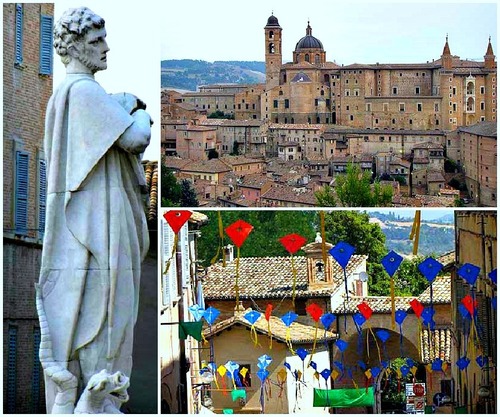 News24 Travel Reader Marie Roux takes an off-the-beaten path trip in Italy…
Who has heard of the Marche district in Italy before? (pronounced mark-ey)
On my second trip to Italy about three years ago, I decided to concentrate on the less well known places. I'd explore parts of Italy, seldom visited, such as Lake Maggiore instead of Lake Garda or Lake Como.
I chose Marche district over Tuscany.
Greeted with very little tourists along the way, a lot of Italian and little or no English, these were the friendliest people I had ever met.
Urbino was totally different than I have imagined. Somehow I expected a small size city, but to my surprise it was a small hill town, with Palazzo Ducale and its walls making up the greater part of the town.The best of it all? My hosts.
I booked a stay at a bed and breakfast in the countryside, conveniently situated on my bus route. Just a few days before arriving my hosts let me know by e-mail that they have a room for me in the "city", which will be more convenient. They promised to wait for me at the bus stop in the piazza.
My arrival in Urbino was however a bit chaotic. My train trip to Pesaro (where I had to get the bus to Urbino) was a nightmare, not only because it was delayed by more than an hour, but the aircon was out of order. a small coach crammed with about 8 -10 people In the "hottest" month in Italy is definitely my idea of a nightmare!
My anxious and kind hosts were still waiting in the piazza. I couldn't believe it! Renato and his whole family came out to meet this girl from South Africa.
Renato's daughter came with them to translate. Renato doesn't speak a word of English, but he must have been the dearest person I met during this trip. His daughter told me more about the history of the town and showed me where my holiday flat was – in the heart of the old town, also a UNESCO World Heritage site.
It is also famous as the birthplace of the artist Raphael (1483). His father Giovanni Santi was court painter to the Duke of Urbino. Raphael was an Italian painter and architect of the High Renaissance. Together with Michelangelo and Leonardo da Vinci, he was one of the great masters of this period. I visited his house of birth and saw a few of his masterpieces which are on display in Palazzo Ducale.
My room had a wonderful view. I treasured every moment, all the wonderful experiences, I couldn't believe I was in this beautiful place with its friendly people who don't speak any English.
See on www.news24.com
I am what I do: Curation, Social Media Marketing, Triathlon, Travelling, Real Estate.
I am passionate about Le Marche Region in Italy, follow me to discover it.
Latest posts by Mariano Pallottini (see all)
0