Oct 2, 2012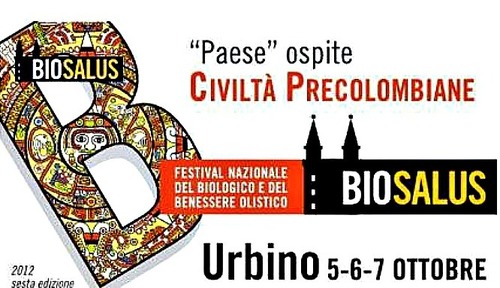 After the great success of 2011 which saw as many as 30,000 people in attendance in the ducal city of Urbino, Biosalus, the National Organic and Holistic Wellness Festival returns from 5 to 7 October 2012.
Organisation is already in progress to create a calendar full of unmissable appointments. This is an event with national character, and has been distinguished since its first appearance; combining with sympathy and competence all these facets:- culture and commerce, popular dissemination and analysis, specialist scientific rigor and tradition. The Biosalus Festival represents the Institute of Natural Medicine's aim to express the concept of Holism.
The historic Raphael College (known as the College of Scolopi where Giovanni Pascoli studied), the Piazza della Repubblica and other prestigious places situated within the picturesque historic center of Urbino will be hosting conferences on biological and renewable energy and the environment, welfare conferences , exhibitions, sales of organic products and food stalls. In Area Treatments you can experiment with various techniques for the psycho-physical care: shiatsu, reflexology, Feldenkrais, iridology, applied kinesiology, etc..
A section of the event is dedicated to the Host Country; an interesting opportunity to learn and share the culture and customs of ancient civilizations. In the area of BioEcoCasa you can discover the latest technology on green building, architecture, bio, energy saving, home automation and ecological furniture. Last but not least, there are entertainment and shows to delight of children and adults with theater, dance, concerts, Micromag and puppets.
See on www.biosalusfestival.it
I am what I do: Curation, Social Media Marketing, Triathlon, Travelling, Real Estate.
I am passionate about Le Marche Region in Italy, follow me to discover it.
Latest posts by Mariano Pallottini (see all)
0