Oct 2, 2012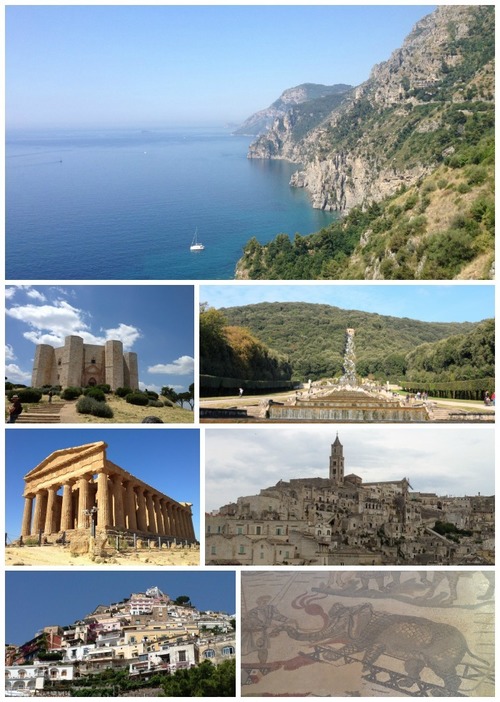 While we have already shared some amazing UNESCO World Heritage Sites in Northern and Central Italy, here are 7 more spectacular sites in Southern Italy.
Amalfi Coast, Campania – The Amalfi Coast boasts one of the most stunning views in Italy and anyone who has driven this 25-mile stretch on the Mediterranean coastline can attest to this…
Royal Palace of Caserta, Campania – The Palace of Caserta, designed by Luigi Vanitelli in 1752 for the Bourbon King of Naples, is said to rival Versailles. While the Palace itself is remarkable, the gardens are magnificent…
The Trulli of Alberobello, Puglia – One of Italy's most unique and striking forms of domestic architecture, the trulli are remarkable examples of what is called drywall construction made without the use of mortar…
Castel del Monte, Puglia – Castel del Monte is an impressive structure with spectacular views of the surroundings. Built around 1240 by Frederick II, a Holy Roman Emperor and King of Sicily, there have been some disputes as to its purpose but its octagonal shape enhanced by eight octagonal towers is remarkable…
The Sassi of Matera, Basilicata – The Sassi are ancient districts in Matera where dwellings have been carved into the rocks and thanks to its landscape, it was the backdrop for Mel Gibson's movie "The Passion of The Christ"….
Archaelogical Area of Agrigento, Sicily – This area, also better known as the Valley of the Temples, boasts magnificent temples of the ancient town of Akragas founded by Greek colonists in 591 B.C…
Villa Romana del Casale, Sicily – Built perhaps for a Roman governor in the 4th century over a 1st century villa, it boasts stunning mosaics that are still in excellent condition. Lying in the countryside outside the town of Piazza Armerina, the impressive mosaics found here represent different scenes including a great hunt where soldiers are loading wild animals onto boats, women in bikini (yes, you read right!) as well as mythological scenes….
See on www.walksofitaly.com
I am what I do: Curation, Social Media Marketing, Triathlon, Travelling, Real Estate.
I am passionate about Le Marche Region in Italy, follow me to discover it.
Latest posts by Mariano Pallottini (see all)
0