Sep 26, 2012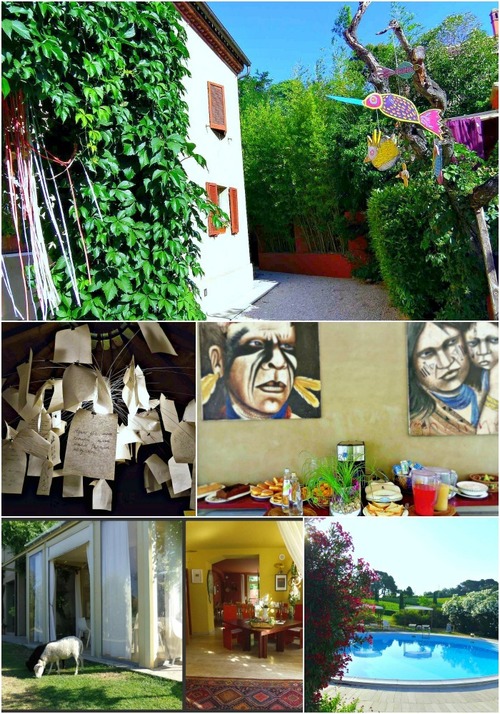 L'Arca di Noe and was labeled "country house" in the tourist guide. It is located in the countryside of Senigallia, meaning less then ten minutes by car to the centre of town and even shorter, about 5 minutes, to the long sandy beaches. We still managed to get lost though. Well actually the GPS managed to get lost. The place is in the middle of nowhere. You will absolutely need a car to stay there.
room in the main house. Very nice, clean and comfortable. The other was a cute round garden house, going under the name of La Pagoda.
It made me think of a Mongolian Yurt as it was round, with windows all around, and had a very natural feel to it. It really felt more like a tent then like a house but still it had airco (great as it was 39 degrees that day), a small fridge and 5 beds. I loved the decoration which was casual but smart.
There is no real reception but it's more of a table with some paperwork on it in a sitting area of the main house. The country house is more of a house then a hotel. The "reception" is closed in the afternoons and the restaurant is closed outside the actual meals.
The restaurant is in that same main building. You are served breakfast here and you can have dinner if you wish. The breakfast is mainly homemade and fresh (figs from the garden and homemade cake!). The dinner was good but very rich. Better be used to having food with lots of cream and butter if you eat here. The food is simple and traditional.
See on srsck.com
I am what I do: Curation, Social Media Marketing, Triathlon, Travelling, Real Estate.
I am passionate about Le Marche Region in Italy, follow me to discover it.
Latest posts by Mariano Pallottini (see all)
0