Sep 25, 2012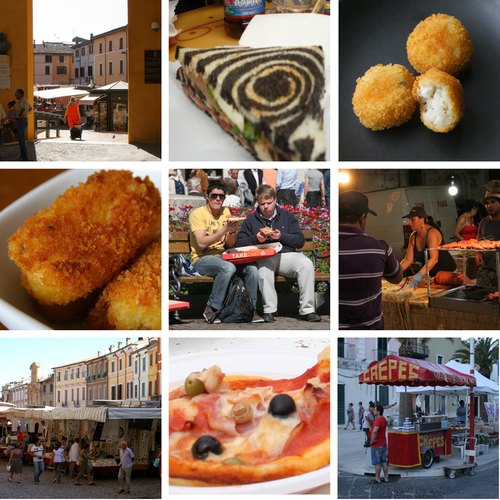 Every Italian region has its own street food specialties. Here's a list of what to taste where.
Alto Adige
Sausages, sauerkraut, münchner weißwurst served with sweet mustard and a brezel (ie. pretzel).
Campania
Pizza, fish soup with dried beans and squid known as brodo di polpo. Scagliuozzi which are deep fried polenta. Potato crocchè or croquettes. And Zeppole pastries that resemble doughnuts.
Emilia-Romagna
Salami, sausages and cold cuts served with various kinds of bread like the popular piadine and crescioni. Torta fritta, cone of fried fish – pesce fritto al cono.
Potato pancakes tortello nella lastra.
Liguria
Focaccia.
Puglia
Bombette da Alberobello (Slices of cured ham and bacon rolled around a piece of cheese and grilled over charcoal) Panzarotti (fried calzoni)
Sicily
Arancini di riso, panelle (deep-fried, chickpea polenta), sfincione (deep-pan pizza with tomato and onion sauce) and pani ca' meusa – a burger bun stuffed with chopped veal's lung and spleen.
Tuscany
Lampredotto bollito (boiled stomach of cow served in a kind of sandwich) e trippa alla fiorentina (stew based on tripe).
my Add
Marche
Olive all'Ascolana, Pesce fritto, Panino con la Porchetta
See on italiannotes.com
I am what I do: Curation, Social Media Marketing, Triathlon, Travelling, Real Estate.
I am passionate about Le Marche Region in Italy, follow me to discover it.
Latest posts by Mariano Pallottini (see all)
0