Sep 10, 2012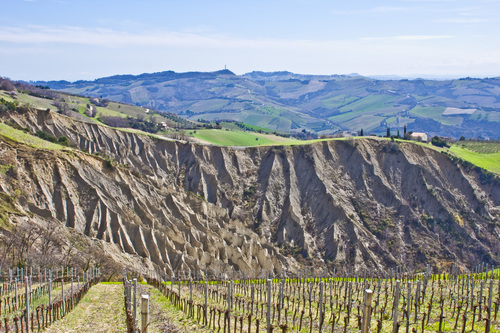 It is a land of deep gorges, dramatic mountains, rolling hills, and the ever-present ocean breeze. Even a place like this, both iconic and beautiful, can be lost amongst the so many wines of the world. The Marches are a little known region of Italy, but with a history of winemaking that stretches back thousands of years to the Etruscans, it is time that it deserved a little more attention. Trust me, it earns its own respect.
The Marches, or just Marche as the Italians call it, sits on the east coast of Italy, where the Adriatic sea breeze blows off the water and up the many river valleys as far inland as the Apennine Mountains. With soil rich in clay, calcium, and limestone, Marche makes a wonderful home to over 60,000 acres of grape vines. And, of course, with a winemaking tradition that predates Rome, it is no wonder that a land like this can produce such memorable vino. Sandwiched between Emilia-Romagna to the north and Abruzzi to the south, and with Umbria in its backyard, the Marches is best known for its vibrant mineral-rich whites and lighter yet savory reds.
2011 Cantine Belisario, "Fuso" Verdicchio di Matelica DOC $13 – Read More
2011 Fattoria Coroncino, "Il Bacco" Verdicchio dei Castelli di Jesi DOC $17 – Read More
2009 Tenuta Aurora, Rosso Piceno DOC $20 – Read More
See on www.panzanomarket.com
I am what I do: Curation, Social Media Marketing, Triathlon, Travelling, Real Estate.
I am passionate about Le Marche Region in Italy, follow me to discover it.
Latest posts by Mariano Pallottini (see all)
0