Sep 8, 2012
See on Scoop.it – Social Media Content Curation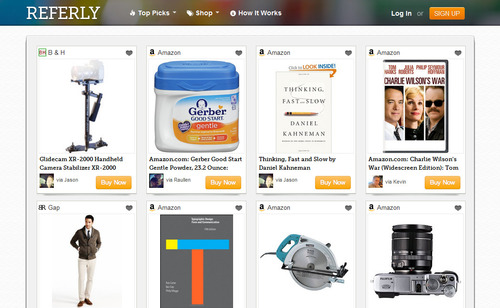 Robin Good: Referly is a revolutionary curation platform offering the ability to create great-looking thematic collections of products, that you can promote and share online.
Referly offers a gorgeous user interface, which makes it very simple to find and collect any kind of product you may be looking for, as well as to create great-looking shopping front-ends.
Through an integrated search engine you can rapidly find fashion items, photo and video tools or your favorite books and start listing them inside your most appropriate collection.
In your collections you can easily edit individual items, resize them or drag them easily to new positions. It is next to impossible to make a collection look ugly.
Referly connects to a large number of products suppliers and it also allows you to earn rewards when you generate sales on products from anyone of these sites: http://refer.ly/merchants
You can also endorse, collect and share just about any product you find online by using the dedicated bookmarklet.
This is the future of shopping.
Free to use.
How it works: http://refer.ly/getting-started
Try it out now: http://refer.ly
See on refer.ly
Founder and CEO of Internet Billboards. A futurist and serial entrepreneur, as well as a professional fitness trainer, martial artist, and business strategist. Helped to develop inbound advertising. An avid content curator who enjoys finding those digital gems out there in cyberspace and sharing them with others.
Latest posts by Tom George (see all)
0