Aug 25, 2012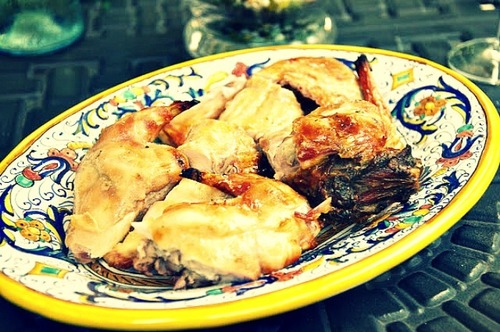 Rabbit is one of the most under-appreciated types of "fowl". Many people have a visceral negative reaction to eating rabbit, since in some countries rabbits are more likely to be pets than a dinner item, but in Italy and other countries, rabbits are highly esteemed for their culinary value and, in these days of tasteless factory chicken, rabbits make for a fine alternative, if you can find them.
Rabbit can be used in just about any dish where you would otherwise use chicken. In fact, many chicken dishes we know today got their start as rabbit dishes. Rabbit was the original ingredient for the cacciatora, for example, which makes a lot of sense, since who hunts chickens?
Most rabbit dishes employ moist heat, which helps keep the meat moist. (Unlike chicken, rabbit has little or no internal fat and lacks the fatty skin that helps chicken meat stay juicy.) But if you're careful to take a few precautions, rabbit is also very good roasted. And on a hot August day, what better way to roast a rabbit than on a barbecue spit?
NOTES: The marinade will help to keep the rabbit moist, but you should be careful to baste often and not to overcook the rabbit as well. For extra protection, you can opt to brine the rabbit before you marinate, as you might a turkey or chicken.
Rabbit is also excellent when spit-roasted in porchetta, or in the manner of suckling pig. The recipe for pollo in porchetta can be easily adapted: just make sure to tie up the rabbit well so the stuffing doesn't fall out.
Ingredients
For the marinade:
2 sprigs of fresh rosemary

2 sprigs of fresh sage

2 sprigs of fresh parsley

2 cloves of garlic, slightly crushed

A few black peppercorns

Salt

The juice of half a lemon

Olive oil
See on memoriediangelina.blogspot.it
I am what I do: Curation, Social Media Marketing, Triathlon, Travelling, Real Estate.
I am passionate about Le Marche Region in Italy, follow me to discover it.
Latest posts by Mariano Pallottini (see all)
0