Aug 24, 2012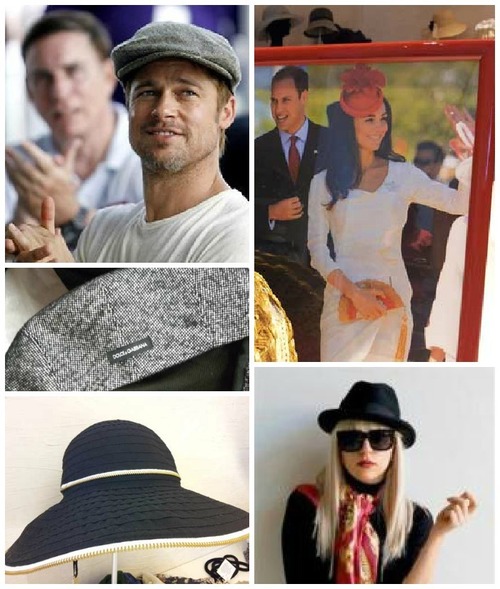 The ever growing fashion trend of that popular accessory
Lately designers are paying more attention to that great fashion accessory – the Hat. When the Italian newspapers showed photos of The Duchess of Cambridge, (Kate Middleton) wearing a 'Made in Italy' work of art, a dainty red hat, we traced it's origins here to our region of Le Marche.
From the world of hip-hop to Hollywood, the fashionable crowd are again sporting headgear. Casual caps, simple pork pies and fascinators… think Brad Pitt, Kate Moss, Lady Gaga, they all know how to wear a hat for true a style statement.
Most Italian hats are made in the little town of Montappone in Le Marche region, and the 6 villages surrounding it. It's as if the people grow up here with hat-making in their DNA. A 19th century fresco of the town has the figures painted with golden ribbons of straw streaming out from their hands – they used to plait straw as they walked to church. The straw hat festival continues every year, Il Cappello di Paglia, in July. Historical and cultural memory of this ancient art is on show at the Hat Museum, which houses historical artifacts, and proudly treasures the last hat worn by the director Federico Fellini. If you are stuck for ideas for that next wedding or Ascot horserace meeting the Museum has a display of 'Mad Hats' Cappellaio Pazzo.
Today the hats are fashionable, sexy and make a statement about you. It's possible to find any kind of hat in these factories, from baseball caps to high fashion catwalk creations. The Italian design is very creative. Many of the factories have their own designers and others work for the big name Italian fashion designers, either to detailed specification or just by adding logos to their own production.
See on www.italialiving.com
I am what I do: Curation, Social Media Marketing, Triathlon, Travelling, Real Estate.
I am passionate about Le Marche Region in Italy, follow me to discover it.
Latest posts by Mariano Pallottini (see all)
0