Aug 17, 2012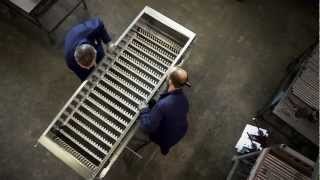 Omaz has been synonymous with experience, prestige and guarantees, all over the interna-tional poultry sector for more than fifty years.
We have always been renowned for our constant technical and scientific research, our accurate selection and control of raw materials, our high production capacity, our rigorous testing and our assistance provided during the planning, implementaton and maintenance stages.
Omaz stands for innovation, study and knowledge of the sector's problems; this is why each of our plants becomes an expression of style, passion and tradition.
Omaz produces:
Batteries for layers, pullets and broilers available in different models ranging from 2 to 12 floors.
Systems for ventilation, humidification and heating,provided with electronic environmental control.
Computerized management systems.
Centralised systems provided with drag chain conveyors for eggs.
Conveyor belts for manure.
Tunnel for manure drying.
Fully-equipped plants for layer and broiler free-range farming.
Buildings equipped with iron structures and thermal panels.
See on www.youtube.com
I am what I do: Curation, Social Media Marketing, Triathlon, Travelling, Real Estate.
I am passionate about Le Marche Region in Italy, follow me to discover it.
Latest posts by Mariano Pallottini (see all)
0