Aug 17, 2012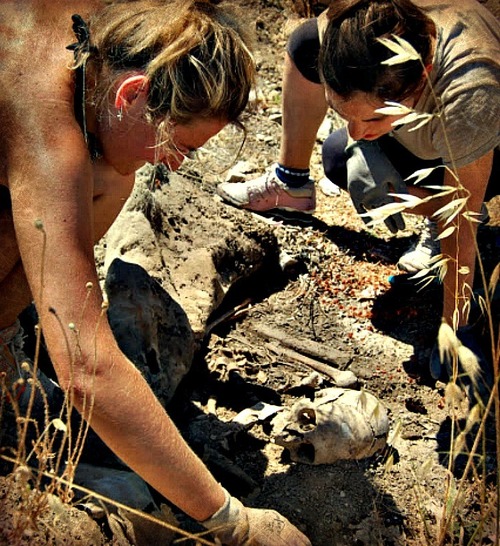 A soft whirring of propeller blades breaks the silence of the sunny, late May afternoon in the Italian Marche countryside. Archaeologist Oscar Mei, hovering in a helicopter, peers down to observe the Archaeological Park of Forum Sempronii, the site of a partially excavated ancient Roman colony. At first glance, the land appears a vast 60- to 70-acre sea of green wheat. Only the Strada Statale 3, a modern day highway, is clearly visible, bisecting the town along the same route the Via Flaminia followed more than 2,000 years ago from Rome to Rimini on its way to the Adriatic Sea.
Mei holds out his camera, snaps a photo of the town's southeastern quadrant, and reviews the image. The camera screen appears entirely green. But then he zooms in. In the midst of the green field emerges a clearly defined, yellow ochre semi-circle. Instantly, he has a hunch about what lurks beneath the wheat at this unexcavated section of town—a Roman amphitheatre. Turns out, he was right.
Mei joined the ranks of students working at Forum Sempronii in 1994, adding to 20 years of ancient Roman ruin discoveries made by archaeologists-in-training. Every summer since 1974, Mario Luni, director of excavations at the site and classical archaeology professor at the University of Urbino, has instructed students like Mei in 40-day field schools. Forum Sempronii is located 15 miles southeast of Urbino, within the present day town of Fossombrone.
Under Luni's meticulous guidance, Mei worked (or dug) his way up the excavation ladder, also becoming a professor of archaeology and now serving as Luni's assistant director of excavations. "Mario Luni gave me the opportunity to work to the highest level of archaeology," Mei said. "He taught me you have to work with an open mind and without preconceptions."
For instance, Mei's assumption that the semi-circular pattern in the photo represented a Roman amphitheatre wasn't enough to please Luni. They had to dig before deciding if Mei's hypothesis held true. It did. Last year, Luni and Mei assisted students in excavating the entrance of the amphitheatre, uncovering cobblestone walls approximately a yard high as well as part of the original floor.
See on 2012.inurbino.net
I am what I do: Curation, Social Media Marketing, Triathlon, Travelling, Real Estate.
I am passionate about Le Marche Region in Italy, follow me to discover it.
Latest posts by Mariano Pallottini (see all)
4