Aug 12, 2012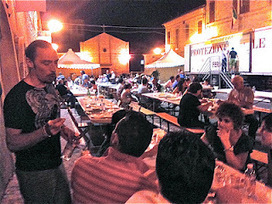 August in Italy is not only a time of closed restaurants, idled factories, and abandoned building sites, it is also a time for local festivals of all types.
These festivals are very firmly NOT specifically tourist attractions; they are for and by the local people. The local communes help to finance them; the entertainment (but not the food) is free and everybody from the oldest to the youngest turns out for the fun.
Last week I went to two. The first was in Monteleone and was a polenta sagre/sagro (not in my dictionary so it could very well be dialect). The food, like most of the Marche food was definitely not haute cuisine but was well cooked, extremely plentiful, and very traditional: for primo: polenta with a ragu sauce or pasta arrabiata and for secondo, grilled (some would say "over-grilled" ) meats.
And for entertainment: traditional dancing. Again, not high culture, but what it lacks in esthetics, it certainly makes up for in energy and enthusiasm. I was mesmerized by the sheer endurance of the dancers, some of whom were young but some of whom must have been approaching their sixties. And it was one of those hot August nights as well.
"Re-purposed" Christmas decorations in Altidona.
You see them everywhere at festivals.
The second festival was in Altidona, another little gem of a mountain town that doesn't merit even a mention in the Le Marche Blue Guide.
We went for the concert, but we stayed for the art: the church in the piazza hosts an exquisite Pagani painting of St. Michael interceding to the Virgin for two would be saints. It is just lovely. And there is also a very old wooden alter painting (the term for which escapes me right now.)
The concert was …
See on monasteromarche.blogspot.fr
I am what I do: Curation, Social Media Marketing, Triathlon, Travelling, Real Estate.
I am passionate about Le Marche Region in Italy, follow me to discover it.
Latest posts by Mariano Pallottini (see all)
0