Aug 7, 2012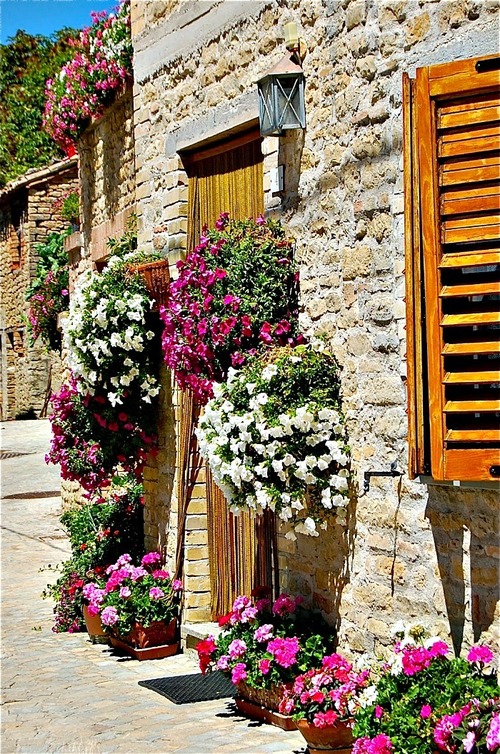 Last week, though, on a whim, I treated myself to an excursion to Smerillo after a visit to our accountant.
A view over sunflower fields to the Sibillini on the drive to Smerillo
You've probably never heard of the small hill town of Smerillo; it has had a rather undistinguished history, constantly being conquered by one larger neighboring town to another. It may have some Roman connections, but the ruined walls there are medieval rather than Roman. I don't think, though, that a place has to have to have had a triumphant –or a tragic history — to warrant a visit. Sometimes beauty is enough. And that Smerillo has in abundance
Now tell me that this is not a wonderful place for a washing line and that it doesn't make you feel so much better than if you were staring at a tumble drier.
Flowers flow around every doorstep and vegetables struggle to escape protective garden fences; the stone houses and ruined walls are mellow in the sunshine; and the views make you smile involuntarily and long to share them with somebody you love.
See on monasteromarche.blogspot.fr
I am what I do: Curation, Social Media Marketing, Triathlon, Travelling, Real Estate.
I am passionate about Le Marche Region in Italy, follow me to discover it.
Latest posts by Mariano Pallottini (see all)
0