Aug 6, 2012
See on Scoop.it – internetbillboards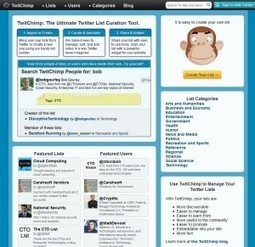 Did you ever try to make list of your followers or friends on Twitter? Well, if yes, then you must be familiar with the fact that Twitter doesn't offer you much features for this task. But don't limit yourself in the features circle of Twitter. Go beyond the boundary by using Twitchimp.
Twitchimp is list curation tool for Twitter. This is the best tool to ease the work of creating lists and annotate them. Creating list is the best way to organize the people having same interest or field. Using Twitchimp is very easy and you are not only given the facility of curating list but are also provided with the tools to share the list.
See on www.twi5.com
Founder and CEO of Internet Billboards. A futurist and serial entrepreneur, as well as a professional fitness trainer, martial artist, and business strategist. Helped to develop inbound advertising. An avid content curator who enjoys finding those digital gems out there in cyberspace and sharing them with others.
Latest posts by Tom George (see all)
0