Aug 5, 2012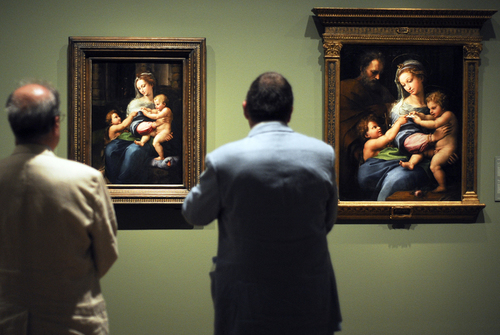 MADRID.- Late Raphael is the first major survey exhibition on Raphael (Raffaello Sanzio, 1483-1520) to combine paintings and drawings in order to focus on the last seven years of the life of the artist, who died in Rome on his 37th birthday. This was the period in his career when Raphael produced the work that would have the greatest subsequent impact on European art. Nonetheless, his paintings have not been fully understood due to chronological issues, to their disconcerting diversity and because the artist did not work by himself. This important exhibition has been made possible through the sponsorship of Fundación AXA, which was the first company to become a Benefactor Member of the Museum and which this week renewed its commitment to the Prado for a further four years. The last three exhibitions to be devoted to Raphael, held in London, Rome and Urbino, focused on his early years and the only attempt to analyse the late period was the exhibition held in Mantua and Vienna in 1999, which primarily focused on drawings. The present exhibition aims to establish a clear definition of the boundaries between works executed by Raphael and those produced with the collaboration of his principal assistants, Giulio Romano (ca.1499-1546) and Gianfrancesco Penni (ca.1496-1528). It starts in 1513 by which date Raphael had been working in Rome for five years, decorating the monumental Vatican Stanze alongside other leading Italian artists such as Michelangelo (his principal rival, at that point working on the Sistine Chapel) and Sebastiano del Piombo, firstly during the pontificate of Julius II then for Leo X. With the change of pope Raphael took on a greater number of commissions both for Leo X and for other patrons and at this point began to employ a considerable number of assistants. His studio was very possibly the largest to date under the direction of a single great painter and eventually counted on 50 pupils and assistants. The exhibition will present the visitor with the highly efficient and effective results of this system, led by the remarkably versatile Raphael. In addition to producing easel paintings (the subject of this exhibition) he also executed frescoes such as those for the Vatican Stanze and for the Villa Farnesina, cartoons for tapestries (for the Sistine Chapel), and worked as an architect (continuing the construction of St Peter's after Bramante's death).
See on www.artdaily.org
I am what I do: Curation, Social Media Marketing, Triathlon, Travelling, Real Estate.
I am passionate about Le Marche Region in Italy, follow me to discover it.
Latest posts by Mariano Pallottini (see all)
0