Aug 4, 2012
See on Scoop.it – Content Marketing for Small Business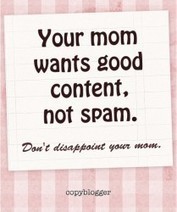 What is content curation? It is the act of finding content to share throughout social media platforms. Finding relevant, interesting, and informative content to post is important for anyone in social media. There is an art and science to finding the best content and it is well worth your time to be thoughtful and careful in what you share. Give people a reason to follow you and keep following you!Per Beth Kantor, "Content curation is not about collecting links or being an information pack rat, it is more about putting them into a context with organization, annotation, and presentation. Content curators provide a customized, vetted selection of the best and most relevant resources on a very specific topic or theme.
See on rachelintheoc.com
A self-proclaimed geek who can recite entire episodes of South Park by heart, Rachel Parker helps businesses publish content that connects with their audience … and converts those followers into customers. She's also the host of the Content Marketing Podcast and a sought-after speaker, having presented to many major business and marketing organizations.
Latest posts by Rachel Parker (see all)
0