Aug 2, 2012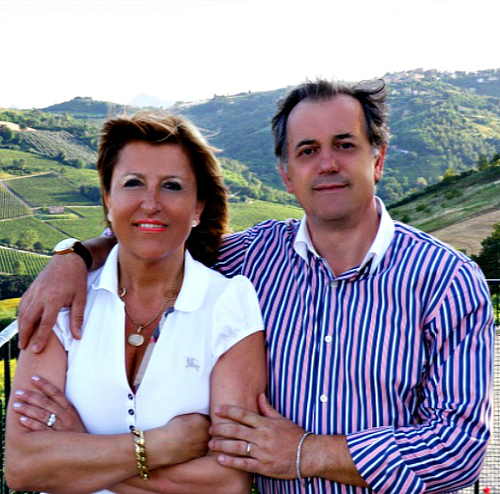 Just outside of the town of Poggio San Marcello in the heart of Le Marche's Verdicchio wine country, where the hills rise majestically to the west of the city of Ancona on the Adriatic Sea, we found the winery of Societa Agricola Sartarelli. Taken there by Annemarie Homan, co-owner of the excellent B&B Terra Mossa at which we stayed for several days, we met with Caterina Chiacchiarini, daughter of the winery owners, Patricio Chiacchiarini and Donatella Sartarelli. Signorina Chiacchiarini, back at the winery after living for several years in New York City, was our tour host and tasting guide.
Sartarelli is somewhat unique as a winery in that it produces only one type of wine, Verdicchio. Grown primarily in Le Marche, the Verdicchio grape has been around this area for over seven hundred years. Today, the area in which Sartarelli is located has become well known for its Verdicchio Dei Castelli Di Jesi, one of a number of Verdicchio DOC designations in Le Marche. My visit to the region was eye-opening to me, a red wine aficionado, as I found that Le Marche's white wines were excellent.
Caterina Chiacchiarini.
PHOTO: Terry Duarte.
The Sartarelli family began their wine growing activities in the 1960s when they sold their grapes to other wineries. In 1972 the family stopped selling their grapes to others and started making their own wines. Today, under the direction of Patricio Chiacchiarini and Donatella Sartarelli, his wife, assisted by their two adult children, Caterina and winemaker Tommaso, and consulting oenologist Alberto Mazzioni, Societa Agricola Sartarelli comprises 60 hectares of vineyards and six hectares of olive trees and a very well maintained winery. Here they produce approximately 300,000 bottles of wine /year.
Sartarelli produces three types of Verdicchio Dei Castelli Di Jesi dry white wine and a sweet Passito, all 100% Verdicchio grapes. The grapes for the Classico wine are collected in farm wagons while the grapes for the other, selected wines are collected in small crates, all at different times. The vinification process first soft presses the grapes at pressures up to two atmospheres but usually lower. Then, after the must is pumped into stainless steel tanks, static separation of approximately 95% of the lees occurs. The fermentation of the must takes place at 18-20°C for a period of twenty to thirty days. After the fermentation period, decanting is carried out in the tanks to clean the wine which remains in the tanks at 16°C until bottling.
Our first wine to be tasted was a 2011 DOC Verdicchio Dei Castelli Di Jesi Classico, the winery's largest selling wine. Straw yellow in color, this 13% alcohol Verdicchio had a fruity nose and a smooth and pleasant but short finish. It would make a good selection for any fish or seafood pasta dish. I gave this wine an 86 rating.
See on www.wineloverspage.com
I am what I do: Curation, Social Media Marketing, Triathlon, Travelling, Real Estate.
I am passionate about Le Marche Region in Italy, follow me to discover it.
Latest posts by Mariano Pallottini (see all)
0