Jul 27, 2012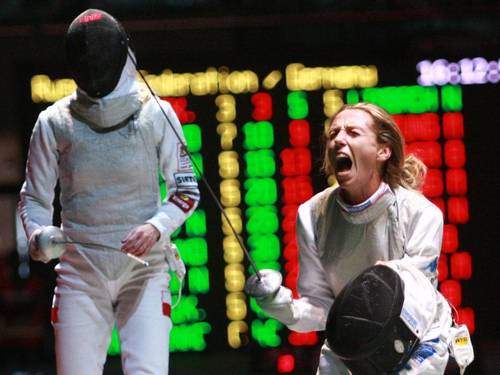 Valentina Vezzali can make history in London. Another gold for the fencer would make her the first ever woman to win four consecutive individual Olympic gold medals. Only two men – Carl Lewis and Al Oerter – have ever done it. Not for the first time, fencing bears the weight of Italian medal hopes. With the slow slip of their performances at recent games, Vezzali's setting an Olympic record would make an important mark for a nation with high sporting expectations.
It should be no surprise that fencing is the sharp point of the Italian challenge. This has always been their best Olympic sport. They have won more gold medals in it than any other country – 45 – with cycling next at 33. Their greatest ever Olympian, Edoardo Mangiarotti, won six gold, five silver and two bronze medals in it. He started in Berlin 1936 and ended back in Italy, at Rome 1960.
Vezzali cannot yet match Mangiarotti for longevity, but her greatness is unquestionable. The 38-year-old from Jesi started at Atlanta in 1996 with silver in the Individual Foil and gold in Team Foil, alongside another icon of the sport, Giovanna Trillini. In Sydney the team gold was retained, while Vezzali won her own event, which she did again in Athens and Beijing too. Her closest rivals in the individual foil, which starts tomorrow, are fellow-Italians Elisa Di Francisca and Arianna Errigo, world No 3 and 4 respectively. Between them, Italy are very strong favourites for another team foil gold.
There was no surprise, then, when Vezzali was announced as carrying the Italian flag at the opening ceremony.
See on www.independent.co.uk
I am what I do: Curation, Social Media Marketing, Triathlon, Travelling, Real Estate.
I am passionate about Le Marche Region in Italy, follow me to discover it.
Latest posts by Mariano Pallottini (see all)
0