Jul 27, 2012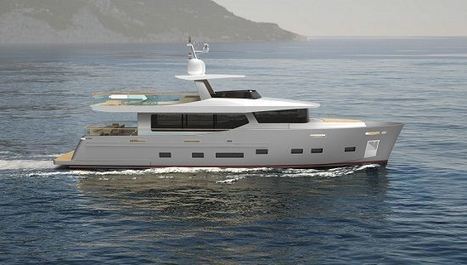 After only a couple of weeks from the presentation of its new Nauta Air range, Cantiere delle Marche has announced the sale of the first Nauta Air 86', the seventh CdM Explorer Yacht sold in less than 24 months. This aluminium Explorer Yacht, sold to an Australian client living in Thailand, combines seaworthy performance and low fuel consumption with an airy contemporary design, with large exterior spaces and a surprising volume. The yacht is the result of a collaboration between the renowned Milan-based design studio Nauta Yacht Design, and CdM.
In addition, Cantiere delle Marche is going to finalize other two sale contracts for a client in Germany and a client in Israel. Joshua Lee, Managing Director of Lee Marine comments:"The team at CDM and Nauta design have been outstanding from the first meeting and were able to meet every need of the client. A very enjoyable experience indeed. This range will enjoy great success in today's new market and we are proud to have sold the first one".
The owner of the Nauta Air 86', modified the original Nauta Air 80' project, to ensure the yacht will let him sail the Indian Ocean in safety, with an increased cruising range and plenty of comfort to entertain his friends and guests thanks to the large exterior spaces and volumes.
See on www.superyachttimes.com
I am what I do: Curation, Social Media Marketing, Triathlon, Travelling, Real Estate.
I am passionate about Le Marche Region in Italy, follow me to discover it.
Latest posts by Mariano Pallottini (see all)
0