Jul 24, 2012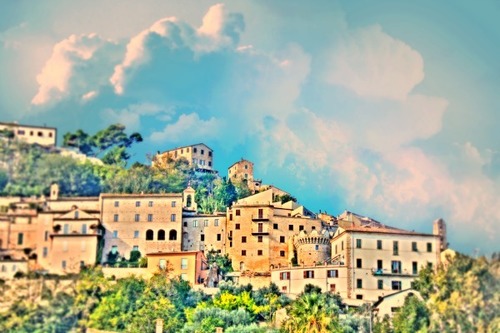 "The first thing you need to do to promote the Marche is tell people how to pronounce it properly," quipped Tony May during one of the many events on a recent tour of the Marche region of Italy which I participated. May is the founder of Gruppo Ristoranti Italiani, a New York-based organization that promotes authentic Italian food. Pronounced "MAR-kay," this region lies north of Rome and south of Venice on Italy's eastern coast.
I knew very little about it. My ignorance was typical of our group of two dozen that included a number of Italian natives and a few seasoned travel and wine writers; the Marche is one of the most anonymous regions of Italy.
The lack of knowledge was less excusable for me. I have a friend from there who has endlessly promoted it. A Houston restaurant run by a chef from the region, Simposio, was a favorite of mine for years. Since 2008 I have been diligently researching Italian food for a book project. And, about a century ago, my great-grandfather, Natale Riccetti, immigrated to America from a town in the Marche.
A phrase we heard during the trip was that Marche was "Italy in miniature." It made sense after an event-filled week encompassing just part of the region.
The first thing noticed is the striking and diverse landscape. Slim, sandy beaches on the coast front the blue Adriatic, and quickly give way to steep hills. Prosperous coastal cities incorporating handsome recent construction with their medieval and ancient cores – all with reddish-tiled roofs – are joined inland by scores of villages, churches and castles topping hills that provide the expected Italianate scenery. Even near the sea, the Apennine Mountains make for a dramatic backdrop throughout. This range has a few deep gorges and many more green valleys, the latter often punctuated with neat rows of vines and olive trees.
See on www.mikericcetti.com
I am what I do: Curation, Social Media Marketing, Triathlon, Travelling, Real Estate.
I am passionate about Le Marche Region in Italy, follow me to discover it.
Latest posts by Mariano Pallottini (see all)
0