Jul 14, 2012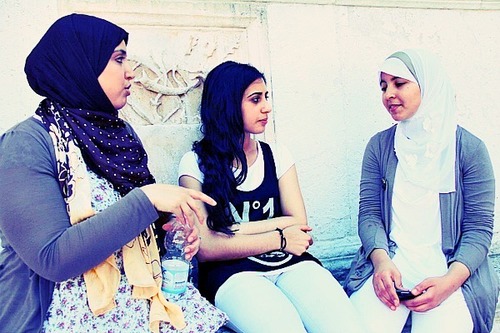 Muslim women in Italy have it hard. They are surrounded by Christianity and Italian culture, but want to follow their parents' rules.
An Italian boyfriend might be able to convert to Islam, but how can you even meet an Italian male who is not Muslim?
"Our boyfriends must be Muslim for Allah's sake, not for us," said Iman Garche, 24, who is studying English and French at the University of Urbino but also lives in Pesaro with her Moroccan family.
About 17 Muslim families, most of them from Morocco, live in Urbino, say members of this small Muslim community. Lubna El Badaoui, 22, works at L'Angolo Kebab restaurant. Her mother sometimes makes bread, called khobz in Arabic, and sells it to neighbors. "It is really hard for me," says the daughter, "as I have to feed my mother and two brothers."
Her father came to Urbino 20 years ago to find a job. In the 1990s, people from developing nations saw Italy as second America. After her father came, Lubna arrived in Urbino at age 6 with her mother and two brothers. She attended kindergarten, primary and high school.
She dropped out the university after a year and a half. Following religious custom, she wears a scarf that covers her entire head except for her face.
"Wearing a scarf in Urbino makes me confront problems when I look for a job because they don't want to recruit me," she said in Italian through a translator. She feels discriminated against, even though people do not say anything directly to her related to her manner of dress or religion.
The construction company that her father ran here went bankrupt, so he returned to Morocco to find a job. It was the same for many Moroccans who came to Italy for jobs in recent decades. When the economic crisis hit, they decided to go back.
One of the essential duties of Muslims is to pray five times a day. El Badaoui does this, sometimes in restaurant where she works and sometimes at home. Performing religious duties in Islam is called jihad, although the word is also used in less positive ways in today's charged political atmosphere.
Read full article by MEHMET BESIR AKINCI
See on 2012.inurbino.net
I am what I do: Curation, Social Media Marketing, Triathlon, Travelling, Real Estate.
I am passionate about Le Marche Region in Italy, follow me to discover it.
Latest posts by Mariano Pallottini (see all)
0