Jul 6, 2012
See on Scoop.it – internetbillboards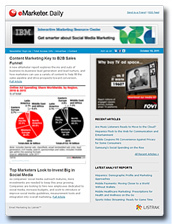 The mobile and social marketing spheres are moving fast, and marketers are doing their best to keep up. That's one of the findings of IBM's May 2012 survey of marketing professionals worldwide, "The State of Marketing 2012."
The continued fracturing of the media landscape has made it increasingly difficult for marketers to reach customers in large numbers. The poll found that the largest percentage of respondents, 41%, named the growth of marketing channels and devices as the top challenge to their company over the next few years. This was followed by customer collaboration and influence, named by one-third of respondents.
See on www.emarketer.com
Founder and CEO of Internet Billboards. A futurist and serial entrepreneur, as well as a professional fitness trainer, martial artist, and business strategist. Helped to develop inbound advertising. An avid content curator who enjoys finding those digital gems out there in cyberspace and sharing them with others.
Latest posts by Tom George (see all)
0