Jun 22, 2012
See on Scoop.it – internetbillboards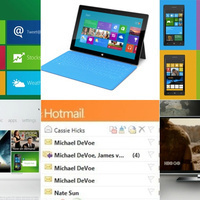 I never thought I'd ever hear myself utter such words post-1995. But after Monday's reveal of the Surface tablet—complete with an ultra-thin, pressure-sensitive keyboard cover and the most discreet integrated kickstand ever—and today's Windows Phone 8announcement—which will be based on the same underpinnings as the Windows RT part of Windows 8—I'm a believer that Microsoft is the most innovative consumer tech company right now.No, seriously.
And it isn't just this week's announcements that did it. This has been building all year. There's Windows 8, Xbox Live, Skydrive, Kinect, SmartGlass; even Hotmail stepped up its game. The Surface, and now Windows Phone 8, merely feel like the culmination—or maybe the fulfillment—of what Microsoft has been poking and prodding at for the past six years when it first introduced the Xbox 360.
See on gizmodo.com
Founder and CEO of Internet Billboards. A futurist and serial entrepreneur, as well as a professional fitness trainer, martial artist, and business strategist. Helped to develop inbound advertising. An avid content curator who enjoys finding those digital gems out there in cyberspace and sharing them with others.
Latest posts by Tom George (see all)
0