Jun 20, 2012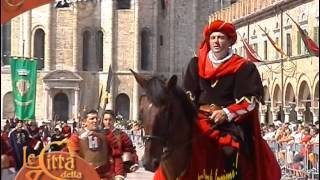 The term quintain (O. Fr. quintaine/quintaina, from Lat. quintana, a street between the fifth and sixth maniples of a camp, where warlike exercises took place), also known as pavo (or peacock), was often used to refer collectively to a number of lance games, often used as training for jousting, where the competitor would attempt to strike an object with his lance, sword or other weapon. The common object was a shield or board on a pole (usually referred to, confusingly, as 'the quintain'), although a mannikin was sometimes used. It was not unknown for a seated armoured knight to act as the target.
La Quintana, Ascoli's jousting tournament, is one of the most authentic and exciting of these medieval shows in the Marche and takes place in the main square on the first Sunday of August. The high point of the games is when riders from the city's six districts tilt with lances at a target.
The day also includes a striking procession with around 1,400 town's people dressed in 15thC costume and plenty of side-shows and open-air eating places. Maybe not quite as famous as the Palio at Siena but certainly well worth seeing.
http://www.quintanadiascoli.it/
See on www.youtube.com
I am what I do: Curation, Social Media Marketing, Triathlon, Travelling, Real Estate.
I am passionate about Le Marche Region in Italy, follow me to discover it.
Latest posts by Mariano Pallottini (see all)
0