Jun 3, 2012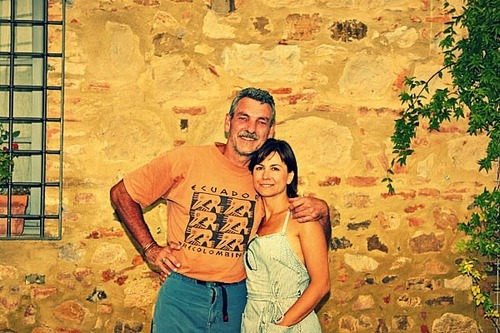 This is the story of Duncan and Claudia who started a new life in Le Marche.
One might wonder how a South African and a German ended up in the rolling countryside of Le Marche. Of course it could only have started in Ecuador (where else?), before moving on to Vienna, New York, New England, the American midwest and south, and ultimately the community of Tolentino, where we make our home. With our backgrounds of IT analyst and manager, freelance writer, medical technician, and health and nutrition disciple, we naturally took to travel to balance our lives. And we've done a fair amount of it too – in addition to the popular destinations of Europe and the US, we've spent time in South America, India, Asia Minor, Africa, and the Caribbean, picking up knowledge, fuelling our curiosity, and enriching our lives through contact with the populations, panoramas, and percolations of these wonderful places.
So why Italy? All the quintessential reasons – the food, the people, the passion, the art, the history … and the pace and view of life. And why Le Marche? For all the above reasons, and the fact that it's not as "discovered" as the rest of Italy, the big centres of Rome and Florence (for example) are just hours away, and it's spectacular – hilltop villages, the Sibillini mountains, the Adriatic, and a host of gorgeous Renaissance cities and towns.
After several years here, it's still an adventure full of pleasant surprises. Naturally there are hurdles, as one would expect – the local dialects have taken some getting used to, the offhand approach to time, the bureaucracy, the national postal service … But there's much more to it, and the quintessential Italian gesture to this type of challenge – the acquiescent shrug of the shoulders – is a lesson in itself: live with it … and find a way around it. Nothing, after all, is cast in stone here, leaving endless possibilities for "innovation" and keeping the original dream intact.
The people are compassionate, generous, and tolerant beyond anything we've encountered before, we still love saying words like "pomeriggio", there are serendipitous discoveries to make every time one steps into a church or a public building or a village, and there's something about the light and the landscape here – it's ever-changing, often almost surreal. And then there are the views …
So we're here to stay, to feed on our passion for this place, and to share it with others. We hope to meet you soon, and have the opportunity to pass on some of our enthusiasm.
See on www.lemarchetours.com
I am what I do: Curation, Social Media Marketing, Triathlon, Travelling, Real Estate.
I am passionate about Le Marche Region in Italy, follow me to discover it.
Latest posts by Mariano Pallottini (see all)
0