May 30, 2012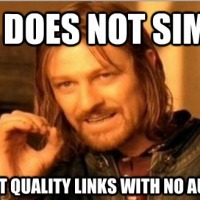 Once you've created content your audience wants to consume, how can you leverage it for link generation? This post shows you how…
There are many important reasons why one should focus on building an audience on their blog. We've already discussed writing for your audience, and reasons to dedicate the time to continue blogging.
With that comes the immeasurable benefits: serving content to your specific audience and catering to what they're interested in, indirectly selling to your audience, and sharing your brand's voice.
Then there are the measurable benefits: page views, link generation, conversions and leads.
Once you've decided to continue blogging for your business and you've created content your audience wants to consume, how can you use that for link generation or content curation beyond what you're already doing?
Are you Blogging with Intention?
Read more: http://bit.ly/KUAi8R
See on www.blueglass.com
I am a NETWORKER and SOCIAL MEDIA GEEK. Entrepreneur and autodidact, I like freedom, talk about interesting stuff, music, travel, lifestyle and much more!

Active as entrepreneur and convinced autodidact for over twenty years, I choose since many years networking and social media activities.

Throughout this long period I was active in the commercial sector; insurance, real estate, health, well-being..., a wide range of knowledge, where I gained a lot of experience, expertise and know-be! Today, my main objective is to develop a global activity (Networking - Social Media - People Building) with people who have the same vision of life and quality of life to have success together!

If you need support to develop a strategy for your online presence, feel free to CONTACT ME!
Latest posts by Martin Gysler (see all)
0